Performance Series Rotors
Items 91 to 120 of 10700 total
Grid List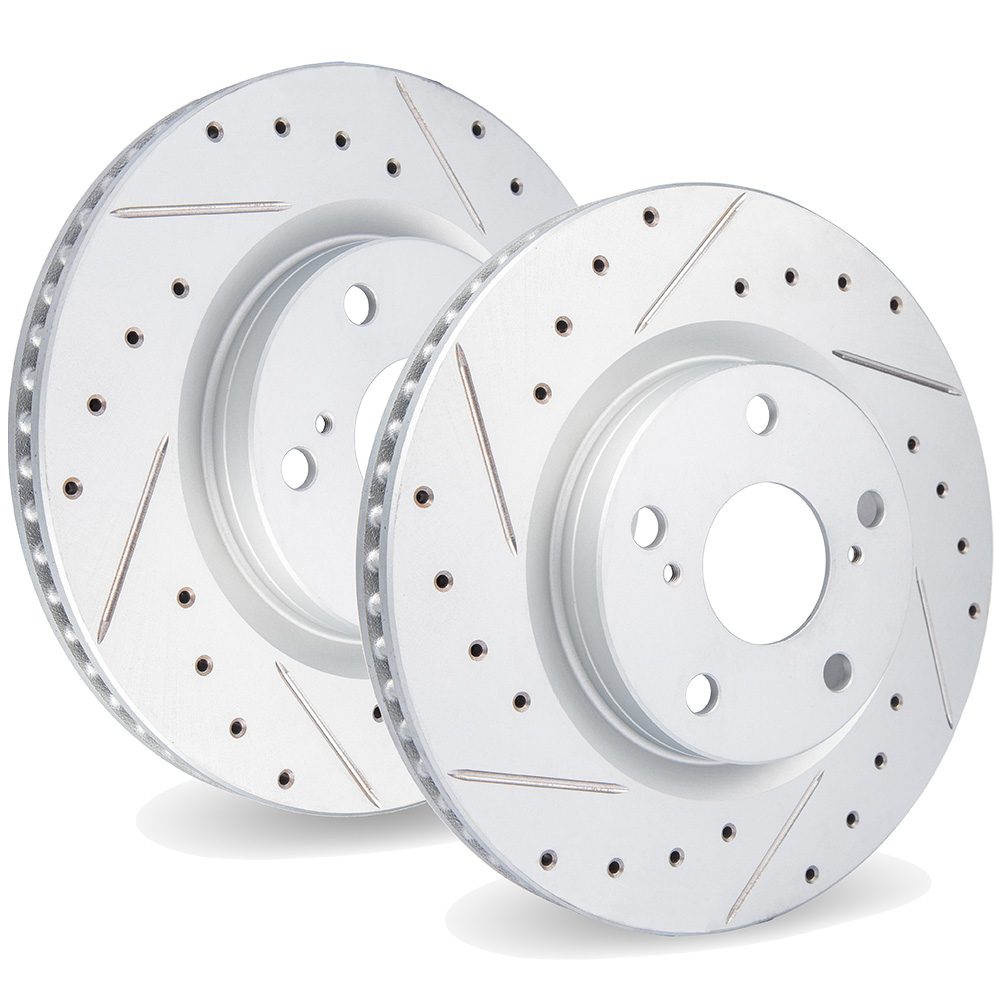 *generic photos--designs may vary depending on application (i.e. amount of slots or dimples)
Our Performance Series brake discs are dimpled and slotted or slotted only. Slotted rotors have lined grooves that are machined just below the surface of the brake disc, whereas dimpled and slotted rotors have both lined grooves as well as bored holes that are drilled just below the surface of the brake disc. *Please note that our Absolute rotor design is dimpled, meaning it is NOT drilled completely through.
When you apply your brakes, debris and hot air or gas is created between the brake rotors and brake pads. Lined grooves or slots help to expel this debris and hot gas away from the brake rotor. Slots also help to maximize the contact between the friction surfaces and improves the grip between the brake pad and brake rotors for more stopping power. With slotted rotors, you can expect that the brake pad material will remain fresh for consistent, reliable braking. Dimpled and slotted brake rotors are designed to function the same as slotted only rotors and expel debris and hot air or gas, but dimples also provide the visual appeal of a cross-drilled brake rotor without sacrificing the structural integrity of the disc. Very rarely, there is a clicking or hissing noise associated with using a dimpled brake rotor. However, this sound will not cause any hindrance to functionality or performance.
Key features and advantages of Cquence Performance Series brake rotors:
Dimples improve cooling and stopping performance with added bite. They also give the appearance of a drilled brake rotor while keeping the structural integrity
Slots carry hot air, gas, and debris away to keep the friction surface clean and boosting performance
Zinc plating finish protects non-friction surfaces from rust
Mill balancing minimizes rotating unbalance and promotes smoother, longer lasting brake parts
G3000 grade cast iron is an excellent, cost effective material
Precision drilling is completed with all of our performance brake rotor designs
Direct OE fitment with no modification needed on your end. Our specifications come directly from OE auto manufacturers.
Some car manufacturers such as Chrysler have transitioned into using slotted only rotors, standard equipped for one of their sporty, performance vehicles, the Chrysler 300C SRT-8. If you desire an edge in performance, along with a sharp, clean and an aggressively, stylish look, try our Power Slotted Only or Absolute Dimpled and Slotted brake rotors! We especially recommend these designs for those of you who bring your cars to the track (on occasion) or for heavy duty vehicles used for towing or hauling.